Oh boy, i've always wanted to make a list of my most remarkable fashion devotees and am so excited i get to do it this year. If these celebrities have gone through the stress of hiring professional stylists and spending big bucks on top designer brands, its only fair we recognize them hey. I came up with diverse categories because i wanted a broader spectrum. The criteria at which they were chosen includes consistency, growth, red carpet/stage appearances, individual style and personality within the year 2013.
Remember, these are my picks going by my criteria above, you may have yours but do go through and let me know what you think okay!
1. Best dressed - (Rita Dominic) - Not coming as a surprise hey! A lot of you would agree with me that the beautiful actress have been phenomenon this year. From a wide array of sophisticated to edgy appearances, the fashion icon never for once had a style day off. With her neither overwhelming nor underwhelming fashion picks, no surprise she receives this honor! Her style is perfection and no doubt to be reckoned with. Standing ovation for you Rita!
2. Dare Devil - (Nkiru Anumudu) - Standing out with her unique and over-the-top fashion choices, Nkiru proves fashion isn't always conventional. From top designer brands to fabulous head gears, she is a trend setter in her own rights. Talk about a woman who dares to take some of the most unexpected fashion risks!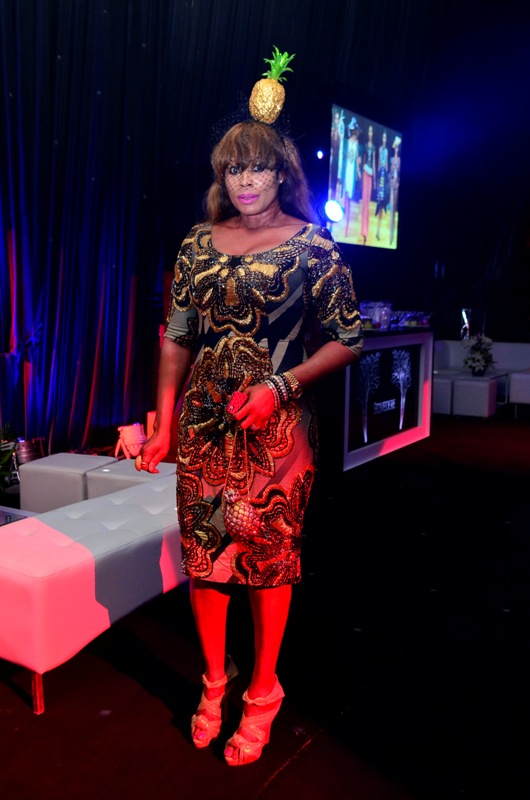 3. Up and Commer - (Fade Ogunro) - She's someone i've got my two eyes on, at the same time, very optimistic about. I can't wait to see her style evolve in the coming years. She was amazing all through fashion week!
4. Retro Princess - (Temi doll face) - Not that there's really a contest to this right. Its not just about how Temi pulls together ensembles from way back but also, her accessories are always a WOW factor which keeps us guessing - what vintage store does she shop?
5. Red carpet pro - (Omotola Jalade Ekehinde) - omosexy bags this one for me not because i was impressed with her fashion this year but because of her 'confidence/carriage'. Regardless of how 'shaky' some of her red carpet looks were, she still manages to pull the stops and that is what defines a true diva!
6. Hot Moma - (Toyin Lawani) - The fashion designer/stylist has got the attitude, pizazz and oh, she's got the bump! No doubt Toyin lawani makes pregnancy seem like a piece of cake! Yeah right!
7. Sophisticated - (Eku Edewor) - With her ever classic red lips and svelte figure, Eku always manages to breathe the 'breath of life' into any imaginable mannequin in whatever she wears. Her style is impeccable and always keeps us on our toes.
8. Drama queen - (Toke Makinwa) - She's the girl everybody loves to hate but undeniably, toke has got her fashion game on. Am yet to really figure out her particular style because she's a little bit everywhere when it comes to fashion but we can't shun our faces from some of the impressive appearances she's made this year.
9. Classy - (Elohor Aisien) - For a woman who rarely follows trend but pays attention to details, elohor is every inch a classy woman to say the least! She's not the fashionista that'll break the rules but she's one that is guaranteed to worth your stare. Lol!
10. Most improved - (Uche jumbo) - Uche has been so impressive over the years and has shown consistent growth in her fashion and beauty choices. She has developed to understand her body and what works for her. With her fiercely well toned guns, we say, Well-done Mrs Rodriguez! Oh, you have a 'beautiful' husband BTW! Lol!


11. Screen Siren - (Adora oleh) - Really, what's not to be envious about her! Beauty, brains and fashion sence that leaves us ever craving for more. The MTN project fame presenter will always make an appearance on our best dressed women's list anyday, anytime! Not that we'd ever complain about that now, would we. Lol!
There you have you it peeps, my 11 most outstanding fashionistas of 2013. What do you think? Please share your views and thoughts.
Don't forget to follow me on twitter @soladunn and let's get talking.....
Stylishly yours,
SolaDunn.