The eldest Kardashian sister and very beautiful mother of two overtime has been admired for her amazing choices in dresses but what you might not know however is that shes got good taste for 'shorts', short suits to be precise. The trend is really in at the moment and is a more sophisticated/modern twist to the regular pant suit. To view my comprehensive post on the pant suit trend, click here
She wears them amazingly well, ordinarily i would have kicked against pairing short suits with striped shirts to avaoid it being too bulky but Kort shows us fashion is all about risk. Well taken girl!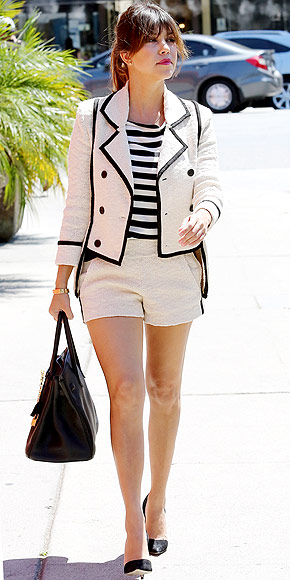 The monochrome is a huge at the moment and you can see its really working for short suits as well. Don't you just love her orange handbag??? *love struck*
Its very street, chic, sophisticated and stylish. Kort is actually very petite and one of the reasons i'll give her a double thumbs up for experimenting with this trend. Short pant could be a little difficult to pull off for short ladies cos it cuts you off and make you look even shorter - but then, thank God for sky high stilettos right. Lol!
How are you loving her short suit style peeps??? Also, check out my full post on the short suit trend here.
for latest updates and interactions, follow and share pictures with me on twitter @soladunn