OMG!!! For some reason, i couldn't find the ULR of my post/article on this body type. Oh well, i've decided to re-post for ladies in this category. Either you are inverted triangle or you have a heavy top, this post is for you . Having a bit of 'extra' is something i think any woman should be delighted to have, problem is - a lot of women do not know how to play around this and ultimately making the best out of them. I complied this post specifically for women with heavy or wider upper half, for them to identify their body shape, understand it and explore it. I hope you enjoy reading.............
Inverted triangle women face a lot of problems from drawing unnecessary attention to their chests (cos most they are fuller there but not typical), finding the appropriate clothing to flatter their body and even shyness from taking their cloths off in public. International celebrities in this category include Sofia Vegara, Maria Carey, Jessica Simpson, Queen latifa, Jill Scott and Christiana Kendricks. Here in Nigeria, we have beautiful women like Waje, Princess, Eniola Badmus, Ronke Oshodi, Cossy Ojiakor and Foluke Daramola.
Well, i've got good news for you ladies, guess what - MEN LOVE BREAST (even Drake testified to this - lol), so believe me when i say - you are not just lucky but blessed. You don't need to need to hide your gorgeously rounded 'girls' ladies, what you need is finding the perfect accessories to accentuate your beautiful figure.
First, we are going to start off by identifying if you truly are a truly inverted triangle. Below are points to help you out
1. Your shoulders appear wider than your hips
2. Your hips look straight due to (1 above)
3. You are likely to have strong/masculine looking arms
4. Your have a fuller chest area (obviously).
Now that you've understood you fall into this category, its time to find the perfect clothing's for you.
Foundation (very important)
Giving your girls the worthy support they deserve will go a long way in defining your waist line. The more loose you girls are, the more your waist tend to disappear. Try to wear bras with slightly larger/firmer straps and don't forget to adjust.

WHAT TO WEAR


V-neck lines - however not too plunging. This creates an illusion of a longer neck thereby elongating your upper body.
Preppy dresses - they give your waist line more definition and also fuller bottom for balance. Wrap dresses are great!
Short asymmetric cut dresses- is a good way off elongating your neck and also showing off your great legs.
Long asymmetric cut dresses - Another very decent way of showing off your womanly curves and elongating your entire body
Create a focal point separate from your chest - either by incorporating a high slit like waje or touch of eye catching accessory like queen latifah's shiny silver belt.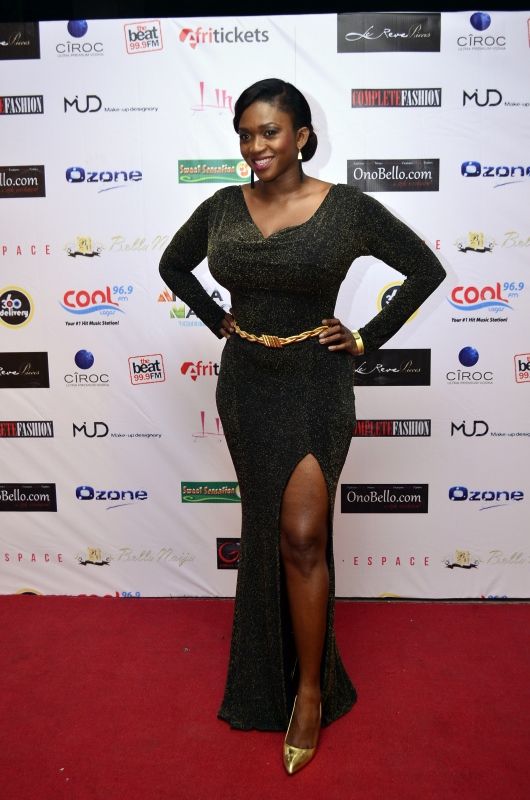 You rock in jumpsuits - just make sure they are loose at the bottom like Jessica Simpson's.
Bell Bottom Pants and scarfs- The bell bottom gives a you a more curvy illusion at the bottom. Avoid clingy pants, if you must wear leggings or skinnies, play around it with scarfs like Wendy (love her to death BTW, lol).
What NOT to wear
sweetheart neckline - More attention is drawn to the chest area with this neckline shape...........well, if you are Miss Cossy, then you're excused. lol!
No attention to your chest - Loud designs at the chest just makes the entire outfit look unflattering because even volume is added. Choi! Folukeeeeeee!!!
Over Plunging necklines - C'mon, you don't really need this now, do you? lol!
High neck clothing's - they make your chest appear larger than they really are. Besides, why go through alot to hide what a lot crave for, huh!
Demi Moore is a perfect example of an inverted triangle woman but with LESS fuller chest area. You can steal one or two clues from her fashion if you are in this category.
Call them tita's, jugs, melons, whatever, point is you've got them in abundance and you should be proud of it. Isn't Waje just amazing! She is definitely someone from the home front that works this body shape amazingly. Over the coming weeks, i will be writing on other types as well. I hope that you find them very helpfu
l.
follow and share pictures with me on twitter @soladunn and lets get talking................