We'll all disagree to agree on this one but what do you really think about Genevieve Nnaji's Deola Sagoe sheer dress at the EbonyLife TV Launch? Am sure a lot of you have seen the dress but here is where we break down the Fashion *winks*. First when i saw it, i was so excited she was wearing couture but on paying proper attention, OH NO, this dress was an epic fail and a hot mess. See my reason below
No doubt the beautiful actress is one of the best dressed in Nigerian entertainment. I admire and respect her fashion choices until 'this'. I love the color of the dress (shade of blue), really beautiful particularly against the yellow carpet but
- the ruffles at the waist all the way to the back, too much/heavy for such a delicate fabric
- the sheer bottom, i wish the lining/cover underneath were longer, asymmetric and less defined
- and the TRAIN, this was the overall spoiler. I don't understand that 'thing' attached to the bottom, totally unnecessary.
All together, too overwhelming, you don't even know what to look at, just NOT WORKING.
Genevieve from her end i think tried her best to pull off this dress - her hair was properly wrapped, demure makeup and minimal accessories, thumbs up for that! Also, i see what the designer tried doing - making the dress tube was a really good idea cos if it had been made with sleeves, it would have been way overwhelming and worse - but even that didn't save the dress, sorry!
Now lets go down memory lane with other fashion icons that have worn similar couture dresses and taken the huge fall, Genny isn't the first -
Beyonce ended up on the worst dressed list of every magazine and fashion shows at the 2012 MET Gala for her sheer/sequin purple feathered Givenchy dress. Boy, i didn't like this dress one bit.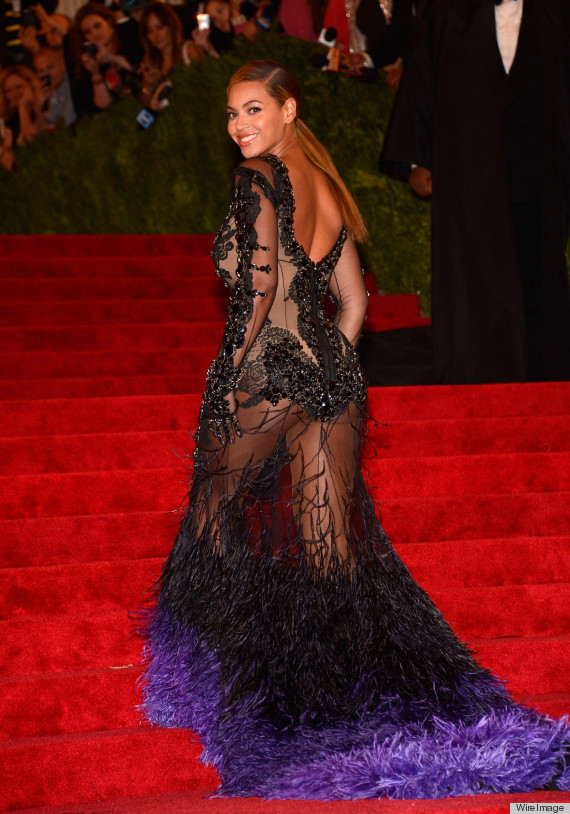 Jenifer Lopez was heavily criticized in this Zuhair Murad dress at the 2013 Bill Board Music award.
Paris Hilton at Cannes film Festival 2013 also ended up as one of the worst dressed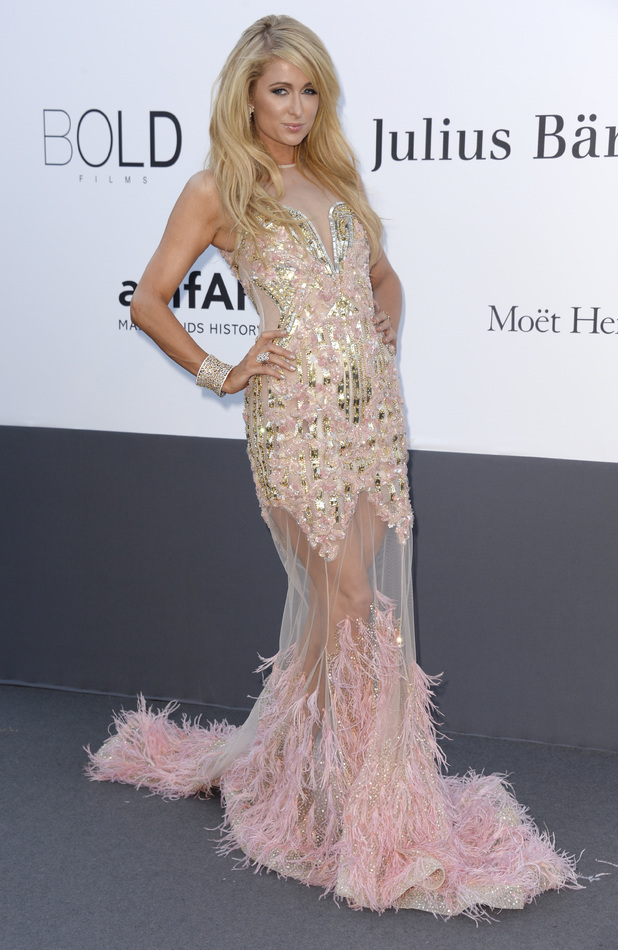 and just Few days back at the BET awards, E! reported this sheer mermaid dress by Mikael D as Maria Carey's worst of the worst
Thing is, designs like this are super hard to pull off so its better you leave them for 'dem carnival tinz'. Am sorry Genny but this is the worst dress i've ever seen on her. Still love her tho plus her skin was super ravishing that evening.
Now, lets have your comments. Was it a hit or miss for you and why?
follow and share pictures on twitter @soladunn and lets get talking......