Denims are forever, worn literarily since God know when. There's absolutely nothing you can do with them that hasn't been done in the past - trust me. But just as they say, fashion fades but style sticks. Fed up of your maxi dresses, here's one fashionable way to them re-ignited.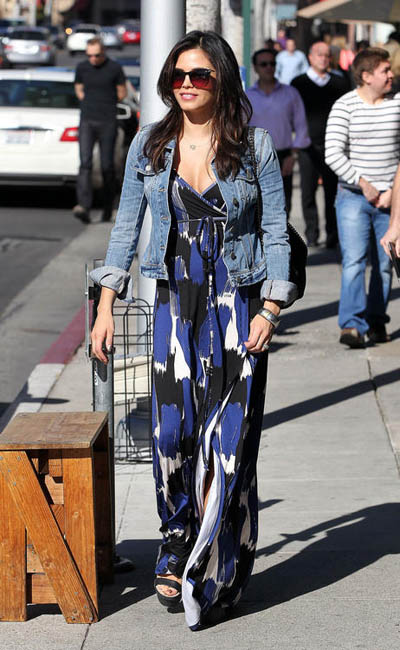 Denim Jackets is one of the seasons biggest trends. We've seen them worn over skirts, shorts, bodycon dresses, pants and so on however combining them with maxi dresses is one trend you don't want to miss out on. They are super chic, effortless and stylish.
Worn over practically any and every form of maxi dress (silk, satin, sheer,.......), denim jackets are your go-to. Besides, it the rainy season now so instead to sinking yourself up in that cossy granny sweater, grab a piece of this wardrobe staple and get rocking.
My favorite - pair your denim jacket with one of your weekend print maxi dresses (prints dresses are everywhere in the market now). It just really gives a beautiful/bright contrast.
OMG!!! If you're pregnant, this is a MUST HAVE. Super sexy and trendy for expecting mama's isn't it. Blazers and jackets are my most highly recommended apparel for pregnant women.
You don't only have less to worry about

closing up your jackets, you also create a curvy illusion to make your desired comfy and stylish statement. Preggers with curves? Now that's what am talking about *winks*
It doesn't have to be the traditional blue denim. Add your own touch by opting for a different color/wash. Am really loving this one on Alessandra Ambrosio. You can also experiment with a vest just like Jessica Alba.
Have you tried this in the past? If not am sure you're running into your favorite shopping outlets right now. I'd love to hear from you and most preferably. see my fashionable readers/visitor.
Checkout this amazing styling i've personally put together for you. Breakdown on how you can get yours below -
Dress available on jumia here
Sandals available on Jumia
here
Jacket available at RiverIsland here
shhhhhh, if you wanna totally nail this, get some bad ass shades *winks*
follow and share pictures with me on twitter @soladunn and lets get talking.........