My best looks will be based on the two major events that went down (BET Awards and EbonyLife TV Launch) this week. All f
rom Nollywood and Hollywood, here are the top three from each category and why i've selected them as my favorites. Its all about glamour, edge and class.
From Nollywood, we have
Uche Jumbo - Its not just a LBD, but the best put together LBD that night. Am gonna have to give her a 10/10 on this one cos over time, her fashion has just evolved getting better and better. Perfect dress for an athletic shaped woman. Very understated and classy. Her makeup was beautiful and her choice of accessories was so on point.
Alex Ekubo - Kinda expected now isn't it. He's renowned for his good taste in fashion and this wasn't an exception. This satin shawl collar was the perfect tux option. Plus, those shoes - Super!

Tara Durotoye - she looked absolutely fabulous in this orange chiffon embellished dress. Very minimal makeup, natural hair bun and her hologram purse is super modern. Over-all-look, very age-appropriate, classy and sophisticated. Her dress also features a high slit by the side which i think is very sexy. One of my best dressed from that event. Not too sure about her pink shoes but aside that, stunning!
From Hollywood, we have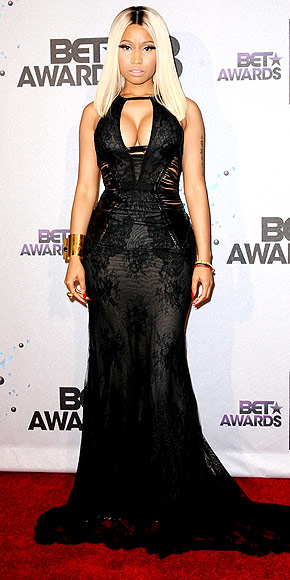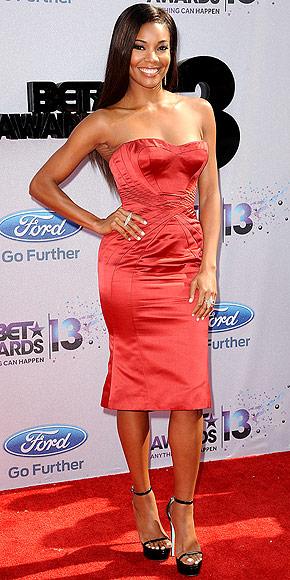 Nicki Minaj - was just perfection in this decolletage leather detailed dress. Subtle make-up, major cuff bangle, absolutely beautiful! Thinking too much boobs? Talk to the hand says Nicki!
Gabrielle Union - One of my fashion 'IT' girl. Anybody that can pull off a short dress on a matching red carpet has got to be a stunner - Love her strapless dress, skin, swept back hair, barely there makeup and and those ankle strap shoes are everything.
Jamie Foxx - Its all about risk, its all about edge and that's exactly what Mr.Foxx brought to the red carpet in this head-to-toe oxblood ensemble.
What are your thoughts peeps? Who got your vote for the best look of the week? onlist or offlist?
I loved Rita Dominic's look - the one shoulder ruffled top and strap sandals were stunning and very edgy but her skirt was a little off for me. I wish she wore something longer, that would have complimented the ensemble better.
follow and share pictures with me on twitter @soladunn and lets get talking..........