Maxi dresses are a major wardrobe stable. Every woman should own one. Dressed up or down (red carpet or street), they are a woman's go-to for either one of those very lazy days or you're just feeling extra chubby. Proven to be one of the most versatile fashion pieces, maxi dresses come in a wide range variety designs - from floral, to stripped, tube or spaghetti........they can be worn by any/everybody. Since maxi dresses could sometimes be a little plain and slouchy, why not try a few of these tips to jazz them up when next you feel like experimenting a bit.
1. Blazers - I talk about blazers being the best layering pieces of all time, well it true. Thinking of wearing your favorite maxi dress to church or out with the girls, put a blazer on it and it immediately chicens your look! Be it blacks/neutrals or pop of colors, you will be grabbing the desired attention *winks*. Do make sure your blazers are well structured and fitted. Oh folake!
2. Put a belt on it - Be sure to choose belts that Pop i.e colors that totally contrast with the dress. However, if its patterns are floral, choose the minutest color and bring it out with the belt. You dig? Yeah! Lol!
3. Jackets and vests - I've extensively written on this in the past. Opt for the seasons hottest denim jackets to compliment your dress. If you're the fierce fashionista, go for Jessica's
vest for a rocker look. Colorful cardigans
also looks great on maxi dresses, i however prefer this for younger adults! Blazers are a more 'mature' and sophisticated approach.
4. Minimal accessories - Maxi dresses are usually meant for those lazy days so minimal jewelries brings out that 'subtleness'. You can choose a focal point and work with that i.e Jenifer's hoop earrings or Kim's necklace. Just keep it simple!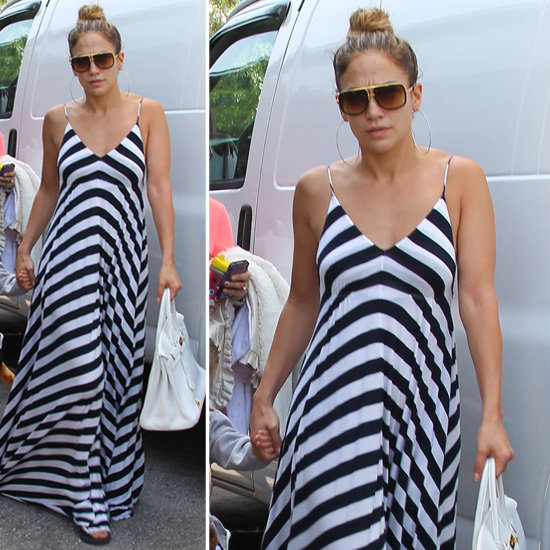 5. Major accessories - If you're wearing your maxi dresses for a more formal outings, you may choose to go all out but don't overdo. Statement bungles like that of Rihanna or Christina's matching earrings works great. Hats, hand-candy's are also a good way to accessorize. Don't you just love Christina's pink clutch!
Length - For the best fit, regardless of height or stature, your maxi dresses must be super long! They give this lovely slouchy relaxed look that way. Pair them with your favorite flip-flops or sandals and you're good to go. Also...........
There are some 'midi' approaches which i prefer on much more taller ladies. Strappy sandals and wedges look great with these.
Note - Do not combine 2 or more approaches together so as not to overwhelm your maxi dress. Remember, the dress is the 'koko', others are just to compliment it. If you are plus sized, go for subtle floral/patterns however, if you're much slimmer
opt for bold and colorful prints.
Have fun guys and i love you for reading! Hope your weekend is rocking too *winks*
Follow and share pictures with me on twitter @soladunn and let's get talking..........
Love,
SolaDunn.