I know most guys if not all guys can never survive without denim particularly now that the shirts interpretation is very in season (can fashion have ever blessed us with a more amazing apparel, don't think so - lol). We can agree on one thing when it comes to jeans - which is, they are incredibly versatile. Dressed up or down, denim are always
a go-to. Check out these 5 very cool ways of rocking your denim shirts gentlemen.
1. With black pants - One of the safest ways to play it safe is to opt for a demure color such as black. BTW, that is the dangerously sexy Gerard Butler and Colin Farrel.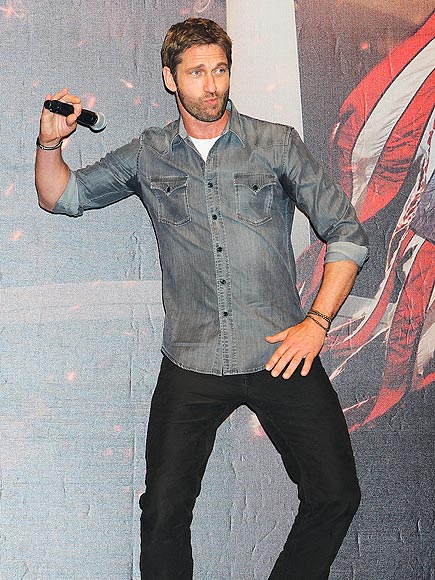 2. Put a tie on it - may look a bit risky and uncomfy hey, well lucky for you - denim shirts are usually made out of really light fabrics so you don't have to worry. It is super stylish to wear it this way.
3. With colored denim - for fellas really into colors, here's your chance to make your desired statement. However, i would recommend this for the younger adults cos its not too matured (you get). To play safe while wearing this, opt for black or red. They have a sharp contract with the shirt and pops better. You may as well work with other colors of your choice.
4. With chinos - now, for a more matured finish, pair your denim shirt with a chinos pants. Avoid baggy and go for slightly pencil mouth. If you're tucking in, go for flat front pants.
5. with denim -pairing denim together is so in season right now.

Make sure your denim are in different washes. Pair light and dark, Distressed and clean, skinnies with loose.......got the idea hey!
Any way you indeed want to style your denim shirts fellas, keep balance in mind - make sure they are not too loose. Fitted ones are more flattering on the body. Tucked in/out, rolled up/down, they rock. I hope you find these few tips useful. Please send pictures in when you get rocking.
To view my comprehensive post on pulling off denim on denim, click
here
follow and share pictures with me on twitter @soladunn