Hey friends, hope you all had a good weekend. Mine was quite relaxing. Lol! Okay now, yesterday was the Golden Globe Award last night and i was all confused if it was a night if recognition or 'fashion'. I saw top fashion like i've never seen seen before both in a good and well, not so good way. Here are the must see looks from the Golden Globe Awards 2014.
Julia Roberts in Dolce & Gabbana - her tucked in shirt and tube dress got so many mixed reviews, was it a hit or miss for you?
Emma Watson in Dior Haute Couture
-
I really like this, do you?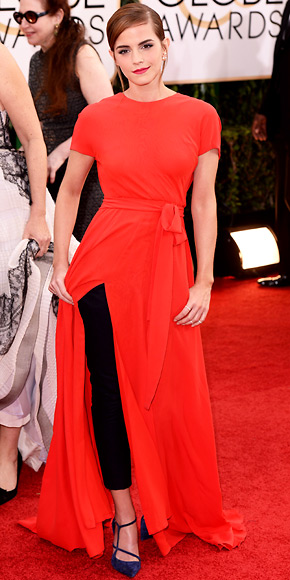 Lupita Nyong'o - best dressed nominee
Olivia Wilde in Gucci
Angela Bassette - Best dressed nominee
Sofia Vegara in Zac Posen - Best dressed nominee. She just never lokks bad now does she *rolling eyes*
Melissa McCarthy - gorge!
Gabourey Sidibe
Paula Patton -
am neither here nor there on this dress, what do you think?
Kerry Washington in Balenciaga - arguably the best looking pregnant woman i've ever seen. Best dressed nominee!
Rocsi Diaz - gorge!
Maria Menounos
Zoe Saldana - disappointed!
Mila Kunis
Heidi Klum
- hmmmmmmm!!!
Emma Roberts - a little too grown up but gorge!
Kaley Cuoco
Kate Beckinsale
Lena Dunham
Cate Blanchett - best dressed nominee! Sometimes i wonder if she's even human? Goodness!
Sandra Bullock - why sandra??? I was really looking forward to her dress and this just, oh well!
Taylor Swift
Jessica Chastain
Kate Mara
Julie Bowen
Lily Rabe
Amy Adams - Best dressed nominee
Reese Witherspoon
Who landed your best and worst looks?