While we'll stick to keeping our professional and personal resolutions private, we'll go on to laying it all out fashion-wise. 2013 was an amazing year! Apart from the fabulous relationship we developed as blogger/readers, the world of fashion in a broader spectrum witness outrageous fashion. From trends that wowed to unexpected icons such as Jenifer Lawrence and Lupita Nyong'o emerged. With only a day gone in 2014, expectations are high for the new year. On this article, i have mapped out a few resolutions i feel you should take in order to improved your fashion for 2014.
1. Define Your Style - Trust me, not all of us can be Lady Gaga, Rihanna or Nkiru Anumodu but every individual has their unique style which may fall between sophisticated, edgy, subtle, urban chic or retro. Whatever it is, be sure to take time out this year to study your persona and how it should reflect on your fashion choices. It might not be conventional but atleast, IT IS YOU so be dedicated to it! For inspiration, look up to celebs like Temi Dollface and Dita Von Teese.
2. Do Not Over Accessorize - Seriously guys, do we really have to go back on this? *straight face*. I guess not! Lol! Rule of the thumb - accessories are meant to compliment and not compete with your apparel. For inspiration, look up to celebs like Genevieve Nnaji and Kerry Washington.
3. Learn Your Makeup Better - Every woman should be able to nail the 5 minutes natural makeup routine. If you looked like a drag queen last year, chances are you don't want to keep that up in the new year. Invest in good makeup brands, they make a lot of difference. For natural makeup inspiration, look up some of my favorite in the industry, Oluchi and Gabrielle Union.
4. Stay Off Tight Clothes
- Combining tight clothes is your first class ticket to looking ratchet and tacky. Balance things out with tight + slouchy but never head to toe 'tight' for a chic look. For inspiration, look up to Rita Dominic and Lupita N'yango.
5. Wear Heels
- If i hear say you want to be comfy wo *eyes rolling*. Seriously now, secret behind heels is that they improve your body posture and helps you walk better. If you're not too good with wearing them, try wedges or stilettos atleast 3". Nothing less than 3" abeg! If you can go as high as 7", you rock babes! Make the world your runway.
6. Do Not Show Too Much
- The rule in fashion is "flash skin but never TOO much skin". Choose whatever part of your body you're most confident with i.e legs, cleavage, abs, back or arms. For inspiration, look up to -Serena Williams and Osas Ighodaro.
7. Invest In A Designer Piece
- I know labels doesn't equal style but it wouldn't hurt to still have a few. Invest in one or a few Louboutins, Chanel purses (not lego o), RayBan eyewear or even pocket friendly brands like Rachel Roy, ASOS and H & M. Just make sure you have atleast one to elevate your appearances. Kate Middleton and Solange are great in this department.
8. Dare Your Style
- Step outside your comfort zone a few times. Take risks and have fun with fashion because if you stick to a particular style for so long, it is bound to get monotonous and boring. Think outside the box and try something new. Celebrities like Angelina Jolie was renowned for her addiction to black until she tried bold bright colors like yellow and white which landed her on best dressed lists of the year. For inspiration, look up to - Angelina Jolie and Kelly Rowland.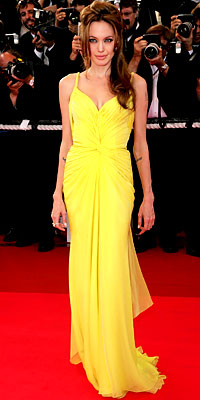 9. Get Good Undergarments
- As i always emphasize, invest in a good pair of bra, panties and spanx. You will be glad you did. Undergarments are the foundation for any perfectly looking apparel so treat yourself to a few pieces this new year. For inspiration, look up to - Naomi Campbell and Jill Scott.
10. Smile
- Need i say more about this, SMILE, Jesus loves you haba! It is the best curve you can carry around with you as a woman. No matter how banging your bod or ensemble is, with a grim look, you're bound to appear bluahhhh!!!!!! Get what i mean? Lol! For inspiration, look up to - Tonto Dike and the lovely Megan Good.
Stick with these fashion resolutions for 2014 ladies and i guarantee you would end up on best dressed lists for 2014. Have fun guys!
I love you for reading!
Remember to follow me on twitter @soladunn and let's get talking......
Stylishly yours,
SolaDunn.