Dictated by the runway and perfected by A-list celebrities. Isn't Mya just cute! Oh okay, so this is a hairstyle am soooo in love with at the moment - it is the sexy center part ponytail. We all know the ponytail has been an all time classic and ofcos there are several interpretations to it - it can be worn in curly cascade, textured, short, braided, side swept............but most recently the interesting interpretation that has really caught my eye is the 'sleek center part'.
As sexy and sophisticated as this hairstyle is tho, you have to be very careful as it works best with oval and round faces depending on the way it is styled.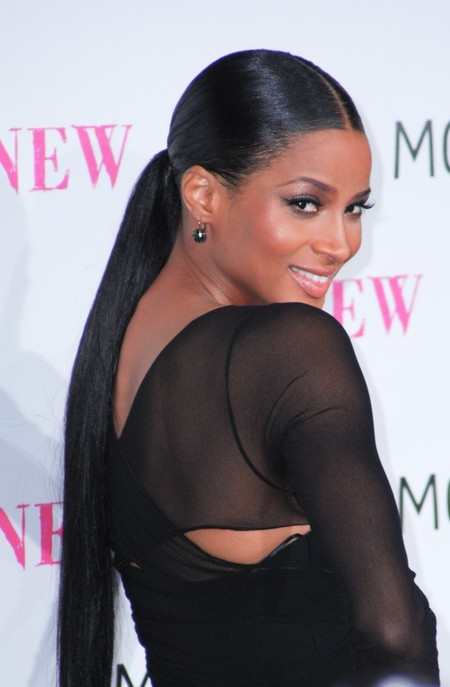 The straight and effortless look is best achieved with fairly long and really sleek weave. Parted right at the middle and pulled tightly backwards.
From really dark black to brown, blonde and even ombre, the gorgeous hairstyle can be dressed up or down. All you need is a good long hair extension, flat iron, hair spray and an elastic band.
To best perfect this look - make sure your hair (if you're not wearing a lace wig) is well straightened with a flat iron. With your parting comb, create a deep center part and brush hair till its sleek straight and
blends in totally with the weave
(gotta have the appropriate
brush too), sweep all hair to the back and secure with an elastic band.
Take about 1-inch section of hair from the ponytail and wrap tightly around to cover the elastic band. Finally, secure the end underneath with a bobby pin. I'd personally also advice that you use a hairspray as a finishing touch to avoid fly-overs (perfection is key, lol). And there you have it, with very little effort, you've created a chic center part pony tail.
It is a very convenient styling that'll take you just a few minutes and can be done right in front of your bathroom mirror. I typically love this hairstyle cos of its versatility - can be worn to offices, outings, red-carpets and so on.
It is very flirty, modern super sophisticated and a bold way of showing off your amazing facial structure. For a little more twist, you may opt for a curly tip. I hope you get to try!
Love,
SolaDunn.
P.S - send in pictures here or tweet at me @soladunn. Am so excited to see.