Rectangle shaped women are actually more than you think. Also known as the banana, brick or athletic - i for one belong to this category. The most challenging thing about this body type is that you have very little or no defined waist line, good thing however is you have amazing. Am really excited to write about this body type cos it pertains me and a whole lot of other women. By ready through, you'll be surprised at how much fun you can have with your gorgeous boyish figure.
Are you bothered because of your barely there curves? see gorgoues woman you belong in the same category with. International celebrities are Natalie Portman, Kiera Knightley, Cameron Diaz, Katie Homes, Zoe Saldana, Kate Bosworth/Middleton and Gwyneth Paltrow. Here in Nigeria we have Eku Edowor, Linda ikeji, Kate Henshaw, Rita Dominic, Seyi shey, Stella Damasus, Monalisa Chinda and Karen Igho. Now, let identify if you are truly rectangle shaped. Your most visible features include
2. Little or no defined waist line
4. upper body is proportionate to your lower body
5. if you are much fuller. you may appear brick, straight or athletic in stature
Now that you know for sure, this is
where you fall, its time to hit the stores and find you some good outfits. Me inclusive, lol!
It is important to note that with this body type, what we are most concerned about is creating a waist line i.e breaking up our mid section and ultimately create curves.
Foundation (very important) -
When you're rectangle shaped, chances are that your breasts maybe a little small for your body/figure. Get a nicely padded bra that separates your breast to add volume. This spanx body-shaper is the best - it lets you wear your desired bra and also clings your body especially the waist area (mid section) and automatically add curves. If you have a visible stomach, this is a must have.
WHAT TO WEAR
1. Dresses with hippy detailing - This is one of the best ways to add volume to your barely there hip area. P
leating, ruffles......... any-form of detailing for that area is great on you.
2. Illusion dresses were designed for you - a lot of you might not agree with me on this but i actually chose Stella over toolz on this dress. Let me explain, illusion dresses were designed to give your torso curves. As an hour shaped woman, your torso is already very short and wearing illusion dresses only cuts it off the more - what that does in reverse is stunt who ever is wearing it.
However, for a rectangle shaped woman, you have a longer torso so the dress sinks you in at the waist and elongates your lover half. As a stylist, what i would have done to nail this outfit on stella is take way the hair, necklace, bangle put her in a spanx body shaper (up) and she would have totally looked flawless. Look at how amazing gwyneth looks in hers (without the sleeves tho). Now take a look at Kim Kardashinan and Toolz close up below
If you look closely, you'll see what i mean. Point is, if you are hourglass shaped, you've got enough curves - any attempt to further accentuate that ends up looking unflattering.
3. Embrace prints -especially if you are on the slim side, prints are a great way of adding volume to your lower half. Trick to pulling off prints is - short girls (wear smaller patterns) and Tall girls (wear bolder patterns). Do keep balance in mind tho.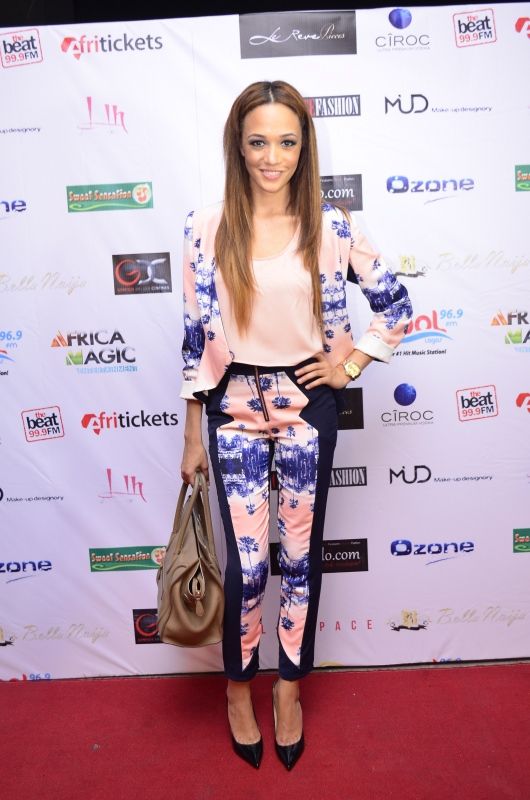 4. Wear shorts - your legs are most enviable feature - so show them off by wearing sexy shorts (tailored, cut-off's, they all look great).
I personally, am a shorts girl, i wear them more that i wear pants.
5. Skinnies and Leggings - they look great on you. Trick to pulling this off is to ensure that they stay right above your ankles. Note, if you must wear bell-bottoms, make sure they sit on your hips and not above. Jackets are great on you too - for the best fit, roll them up a bit to shorten your arms. Loose tank tops that sits on your hip bones are the best choices.
6. Sexy back - as a rectangle shaped woman, you are most likely to have an amazing back so show them off. Make sure they are well toned tho, If you have flabs, aviod this.
6. Hippy dresses or skirts - but must be clingy at the waist for definition. They give a more curvy illusion to your hips. Chai, linda can chop sha! lol! Doesn't she just look amazing in this dress? Not her regular black on black. lol!
7. Thin statement belts - you might not have a visibly thin waist but a a thin statement belt is always a go to in breaking you up
at your mid section
. Please do not wear bold belts.
8. Cute preppy dresses - make sure they are a few inches above your knee and they must be fitted at the waist. Great way to show off your assets (legs).
9. Bodycon Dresses - especially if you are athletic, make sure they are a few inches below you knee and V-necks are most preferable. The V-neck elongates your upper half and the slightly long bottom helps to define your hips. Victoria Beckham makes this type of dresses incredibly well.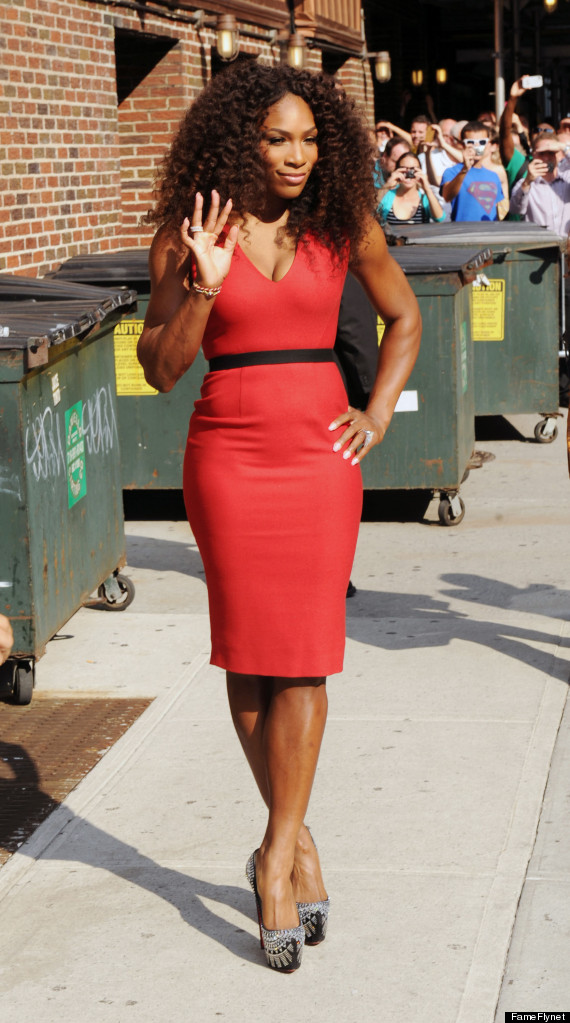 10. Jumpsuits - look amazing on you, again accessorize with statement belts. Do not do wide bottoms but make sure they are tight around the ankle.
11. If you must wear
fitted
floor length dresses, always remember
to highlight your waist. See at how gorgeous Rita
and Pink looks. Am sure you can never guess they are rectangle shaped in this dresses right!
WHAT NOT TO WEAR
1. Dresses with no waist detailing - can you see how curvy Gwyneth is (up) and how straight she looks here? Dresses like this should be avoided, they only draw attention to your straight waist and further elongate your torso. BTW, isn't that uche's nipple poking out?
2. Baggy clothings - am sure with these pictures, you understand. lol! They make you look nothing but even more boyish.
3. Avoid power shoulders - your shoulders are broad enough. adding volume to it makes you look inverted triangle which is unflattering.
4. Be careful with men inspired wears - they are usually loose and only bury your figure, we are looking at creating curves not make them disappear. I was never a fan of this look on Rita as soon as i saw the wedding pictures. Look at how amazing her body looks in the dresses and short (up). I just can understand her rationale for wanting to bury her amazing body in this unflattering outfit *eyes rolling* Please be careful with it.
The numerous fun you can have with your boyish stature is limitless (very minimal don't). As i always say, r

ules or not, the most important thing is to love your body - not many people are opportune to play in the same league as the most beautiful woman in the world (Gwyneth Paltrow) *winks*. I hope you enjoyed. Do let me have feedbacks - am excited to hear. Have fun!
Oh for new visitors, please check out the pear shaped woman and the busty girl (inverted triangle).
follow and share pictures with me on twitter @soladunn
Love,
SolaDunn.