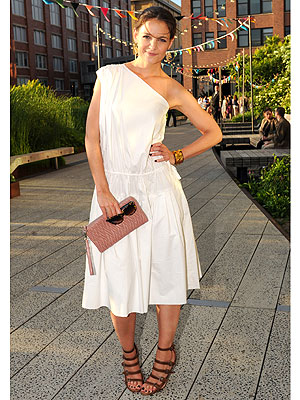 We can agree that these two (Katie Holmes and Tiwa Savage) are our sweet gorgeous 'girl next door' fashionistas. Their choices of fashion maybe very demure and carefully chosen yet highly sophisticated and thats why they ended as my worst dressed celebs in white. Lol! Not that this is the worst of the worst, i just feel they are just too much of a fashion icon to be caught in this outfits. They simply fell from 100 to 20 on this one. Am so sad to do this to Tiwa especially, shes our good friend to the blog but truth be told, this is a no no..........
Katie, *lips sealed*, don't even know where to start from. And our very dear Tiwa, what were you thinking?
She wore this jumpsuit lately which features a low back and flare bottom. To start off with, the length is way too long (sweeping the entire event i guess), the sleeves are too wide/long to compliment the flare bottom and if you look closely from the picture above, it looks 2 sizes too big for her. Besides, she pear shaped and anything that bogus only makes you look more heavier below. Also, her makeup - sowie, i don't like. I do appreciate her boldness to opt for a darker lipstick shade tho.
Tiwa is my style crush but this is undoubtedly one of the most unflattering outfit shes ever worn. The only 2 thing am feeling on this are just the earrings and her hair, lovely!
The jumpsuit is gorgeous but 'not' on Tiwa - just my opinion tho, lets have yours. Peeps, what do you really think about both outfits........lets have your thoughts!
follow and share pictures with me o twitter @soladunn and lets get interacting